Huddle: The History of College Football in America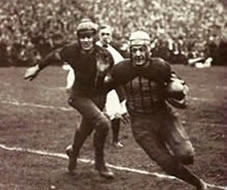 1920s University of Illinois halfback
Red Grange, the "Galloping Ghost"

Football is the most popular spectator sport in America. Each and every fall millions of football fans attend games at all levels, and many millions more watch them on television. College bowl games are big business, and the NFL Super Bowl has become an unofficial national holiday. Yet, ironically enough, among all the major American sports, football is perhaps the least understood. Few fans know much more about the game than the very basics. And even fewer know anything about its history. Whereas most baseball fans know the name Ty Cobb, and can likely spot a 6-4-3 double play, it is rare to find football fans that have ever heard of Walter Camp, or know a "2-technique" when they see one. In producing Huddle: The History of College Football in America, it is our intention to bridge the wide gap between what is felt for football in this country, and what is known about the game, its origins, and its evolution.

Currently in pre-production, HUDDLE is projected to be a four-part series on PBS.